Sell My House Fast - Sacramento: The Ultimate Guide
Posted by Suneet Agarwal on Wednesday, April 26, 2023 at 4:51 PM
By Suneet Agarwal / April 26, 2023
Comment
You live in Sacramento, a city with a rich history and a vibrant culture. Despite all of its charm, selling your home in Sacramento is prooving to be a daunting task for you. However, you are ready to move on to the next chapter of your life.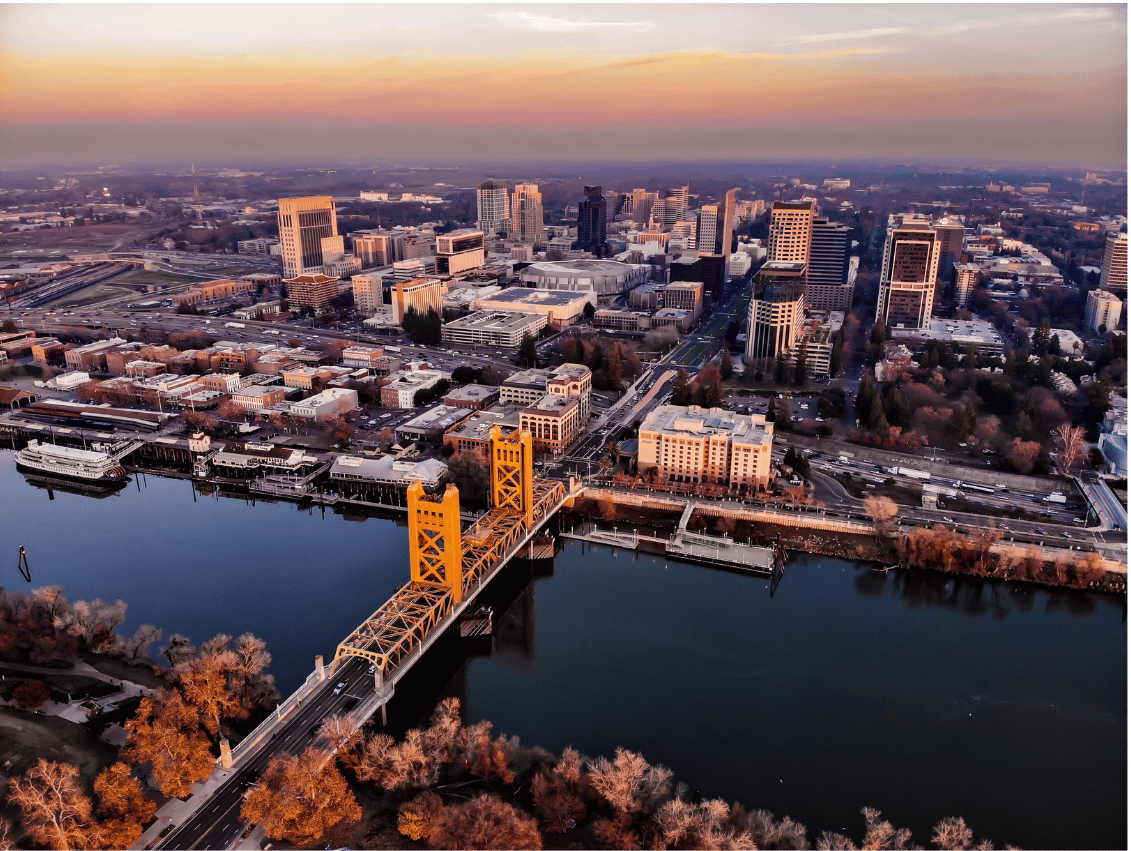 It is filled with emotion and uncertainty. You've poured your heart and soul into making this place a home, and now it's time to let it go. The thought of parting with a place that has been your sanctuary, your refuge, your shelter from the world, is bringing up feelings of nostalgia, sadness, and anxiety. However, deep down, you know for a fact, it is going to be filled with joy, excitement and a future filled with hope for a new family who will call it home. You take the time to reflect.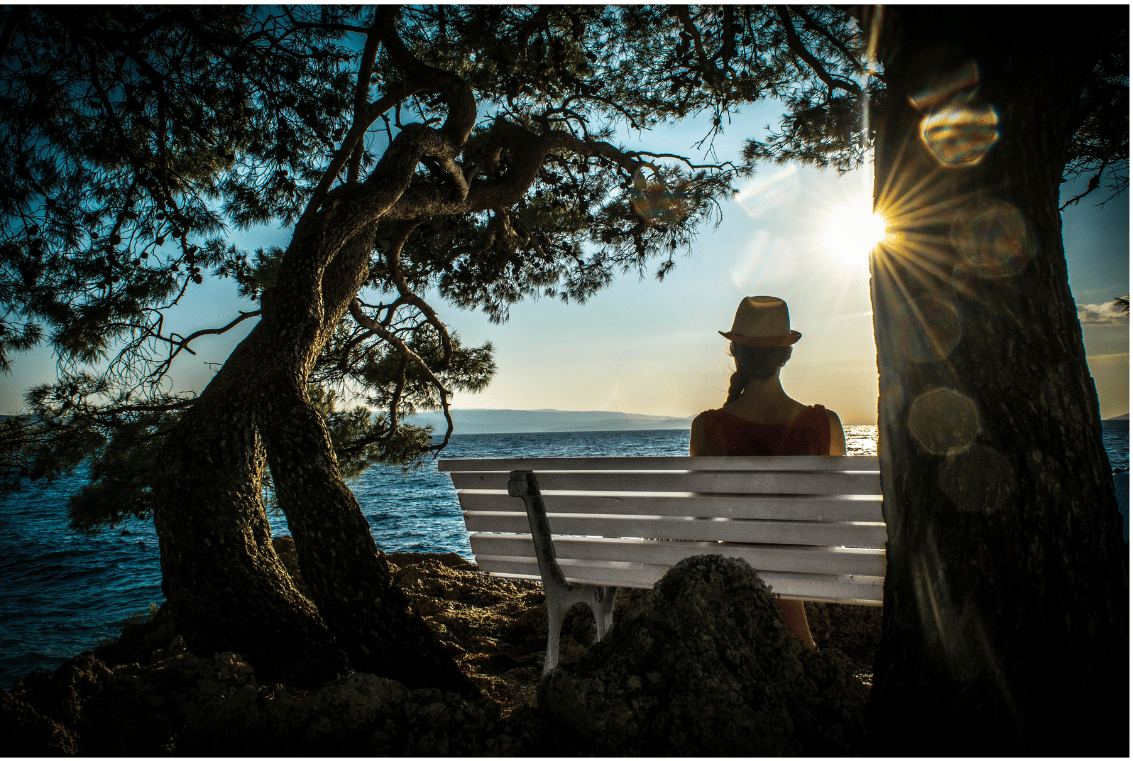 Sellng your house in Sacramento is no small feat, and it's one that requires courage, resilience, and a strong support system to help you navigate the ups and downs of the process. So many things are holding you back. You're worried about how long it will take to sell, how much money you'll make, and how you'll handle the logistics of the sale.
The decision to sell often comes with its own set of challenges - from the overwhelming task of decluttering and staging your home to the stress of navigating the real estate market and finding the right buyer.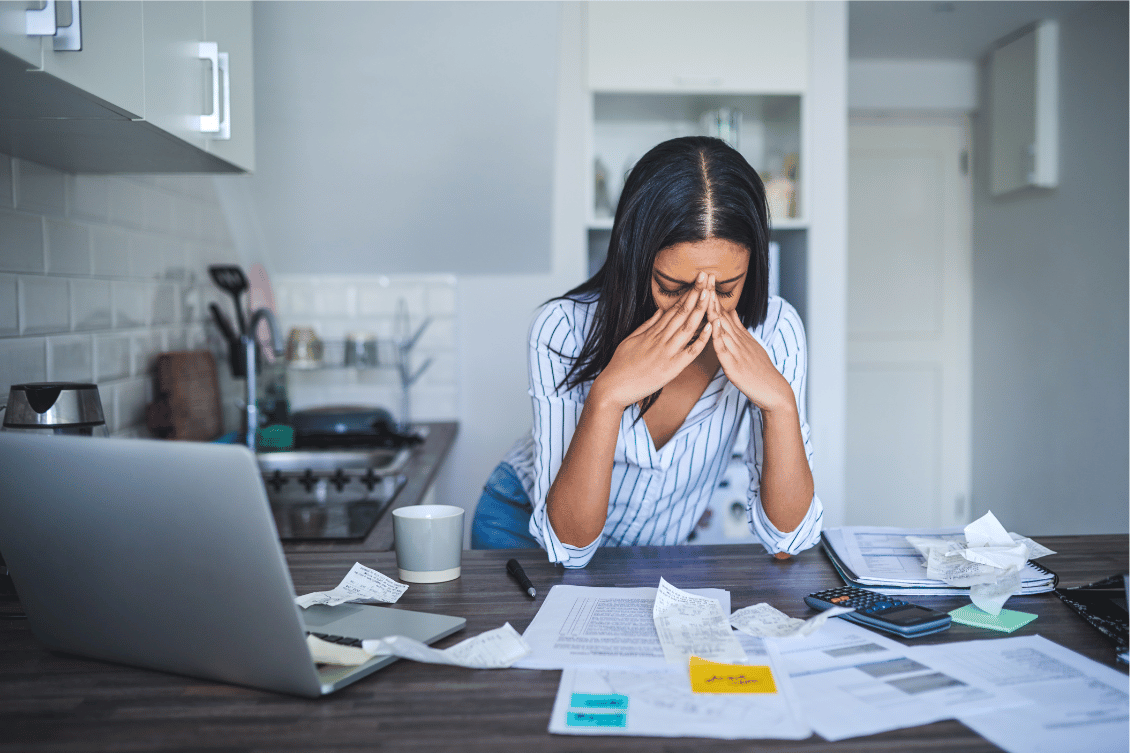 With past memories to cherish and new beginnings to embrace, It is time to put your brave foot forward, conquer that fear and tackle the road ahead.
Sacramento Housing Market - August 2023 Update.
The average time to sell a home in Sacramento is 60 days.
The average list-to-sale price ratio in Sacramento is 97.5%.
The median home price in Sacramento is $625,000.
The average commission rate for a real estate agent in Sacramento is 6%.
Let's begin with these real estate tips, take baby steps and get your house, market ready! Dare to Dream!
Step One: Clear the Clutter
You'll want your home to make a positive first impression on potential buyers. Decluttering your house gives potential buyers a better idea of how much space is available and the layout of each room. It can also make rooms appear bigger, brighter, and more inviting. Buyers want to be able to see themselves in the space without any unnecessary items.
Remove any personal items that may distract them from the home's features. This Includes
Family Photos
Bold Artwork
Unique Decor
Excessive Knickknacks
Clean your house, and consider hiring a professional cleaner to do a deep cleaning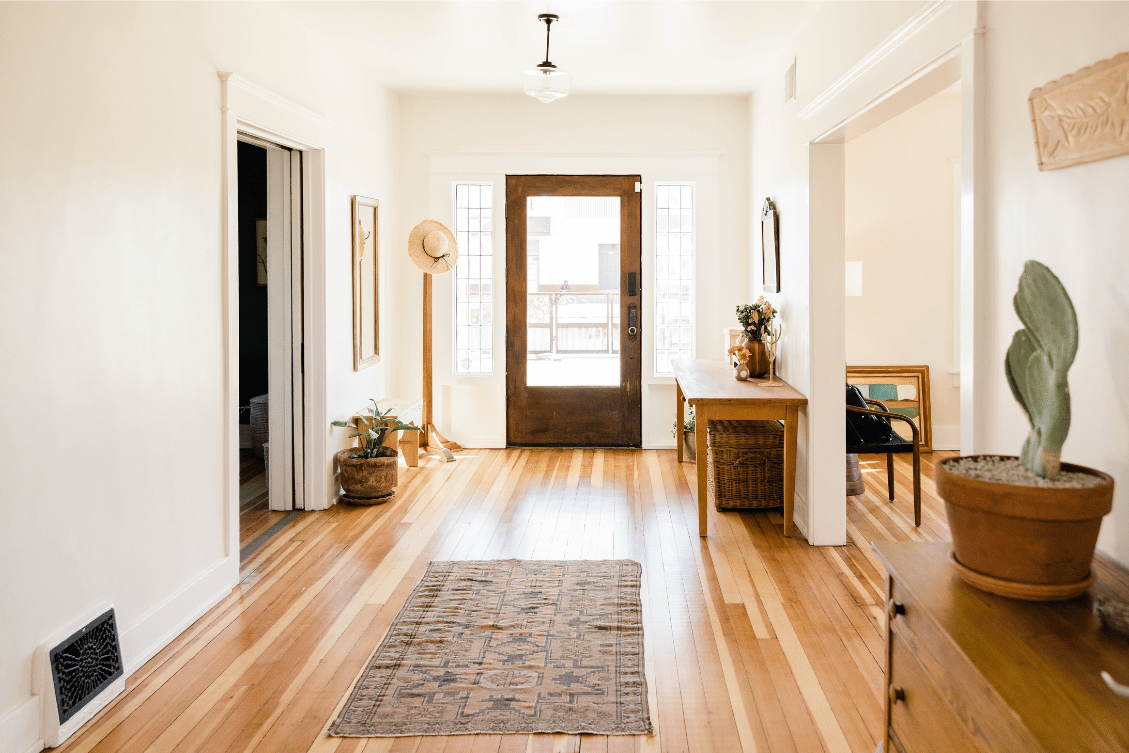 Step Two: Fix any Interior Problem Areas around the House
Make your house look fresh and modern, as it can affect a buyer's decision to purchase your house. Check for any damage and repair and update them quickly. It will leave a good first impression.
Replace Cracked and Outdated Lighting Fixtures
Replace Creaking Doors and Outdated Cabinet Handles
Replace Peeling Paint and Touch up walls and Ceilings with Neutral Colors
Ensure all common spaces are safe and well-maintained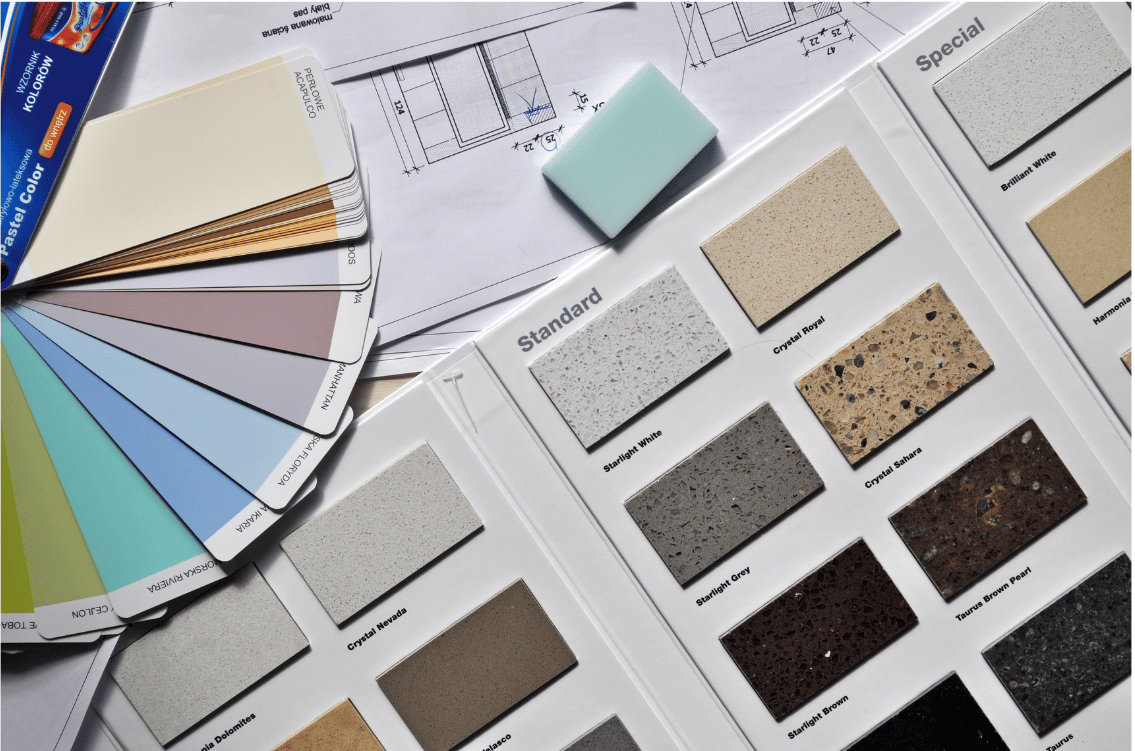 Step Three: Enhance your Home's Curb Appeal
Sacramento is known for its beautiful weather, so make sure to highlight any outdoor space you have. The first impression is everything when it comes to selling your house. Enhancing your home's curb appeal can make a significant difference in how quickly and at what price your home sells.
Some simple ways to boost your curb appeal include:
Beautiful Landscaping:
Mow the Lawns
Prune the Shrubs
Trim the Hedges
Remove the Weeds
Add Colorful Potted Plants or Flowers to the front Porch or Entryway
Exterior Appeal. Repaint or Touch Up:
Exterior Walls
Doors
Window Frames
Clean or replace the:
Repair or Replace Damaged or Worn-out features such as:
Highlight the outdoor space with eye catching details by including:
A Patio, Deck, or Yard Area
Outdoor Furniture to create a welcoming Oasis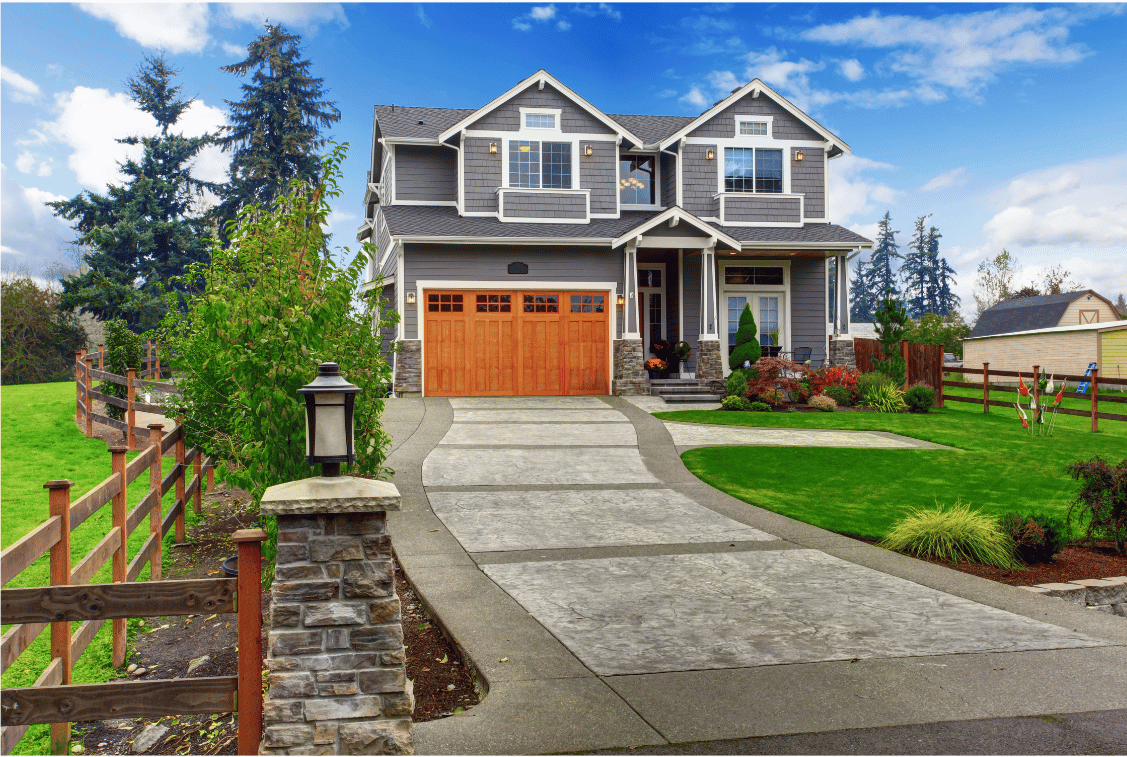 Step Four: Stage your Home Professionally
Home staging is the art of showcasing your home's best features to create a welcoming, attractive and spacious atmosphere to potential buyers. It is about helping buyers envision themselves living in it. Consider engaging an experienced professional to stage your home before putting it on the market. According to the National Association of Realtors, home staging can help you sell your house faster and for more money.
This will help maximize its appeal to potential buyers. It involves the following:
Arranging your furniture and decor in a way that showcases your house's best features to create a spacious and inviting environment
Create focal point in each room, with a piece of artwork or a unique piece of furniture
Adding some tasteful accessories, such as pillows, rugs, and curtains
Add some beautiful decorative touches, like fresh flowers or scented candles, to make your home feel warm and inviting. This will make buyers feel emotionally connected to your house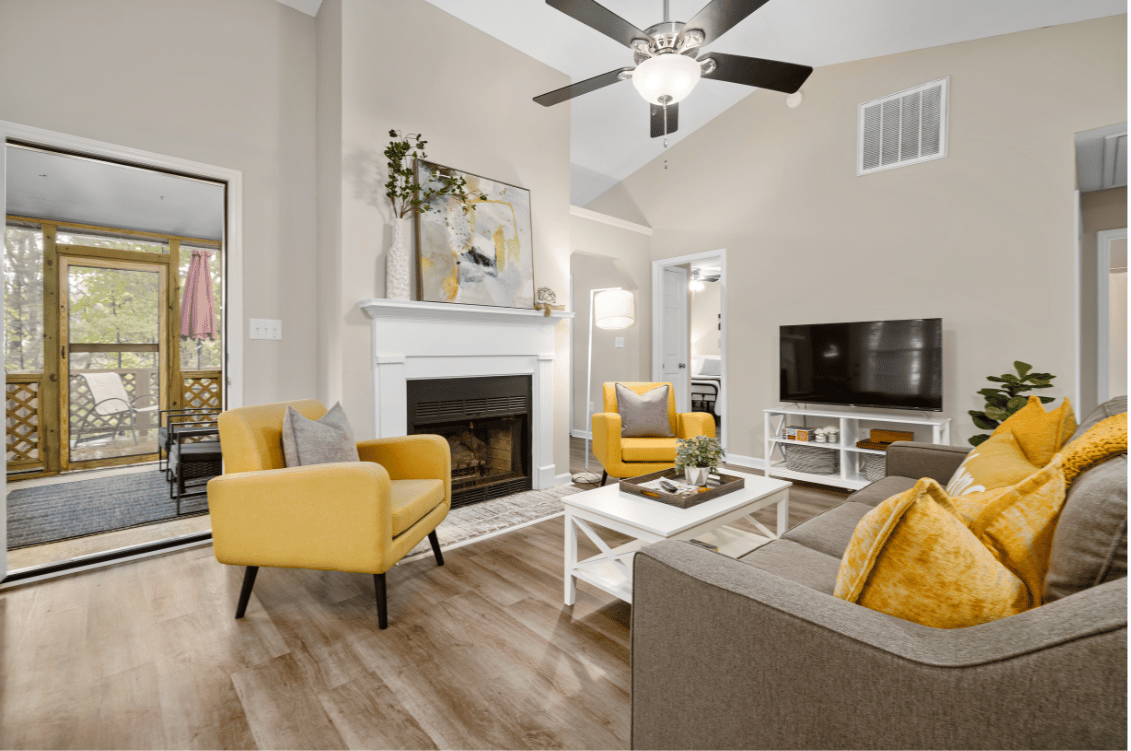 Property Staging Statistics
According to reports by Professional Staging, NAR, Investopedia, and Bankrate:
82% of potential buyers found it easier to visualize a property when it was staged.
Staging the living room was found to be most important for buyers (46%), followed by staging the master bedroom (43%, and staging the kitchen (35%).
47% of buyers' agents cited that home staging had an effect on most buyers' view of the home most of the time, but not always
23% of buyers' agents said that staging a home increased the dollar value offered between 1 and 5 %, compared to other similar homes on the market that were not staged.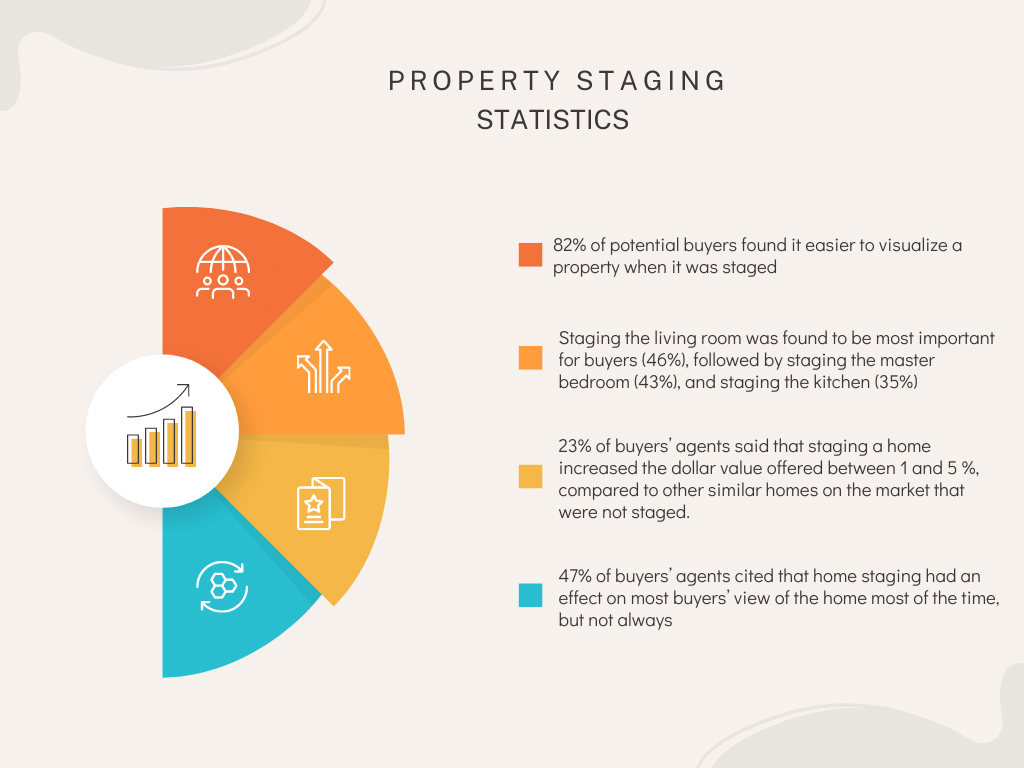 Step Five: Highlight the Best Features throughout your Home
The goal in selling your home is to showcase its best features, in each area of your home to make visitors start seeing themselves living there. This could be a beautiful backyard, a spacious kitchen, or a cozy fireplace. Or is it the great natural lighting in the living room, a beautiful view and high-end finishes?
By highlighting these features, you can attract buyers who are looking for a specific type of house and create a more emotional connection with them. Make potential buyers feel positive about their potential residence before they even step through the door.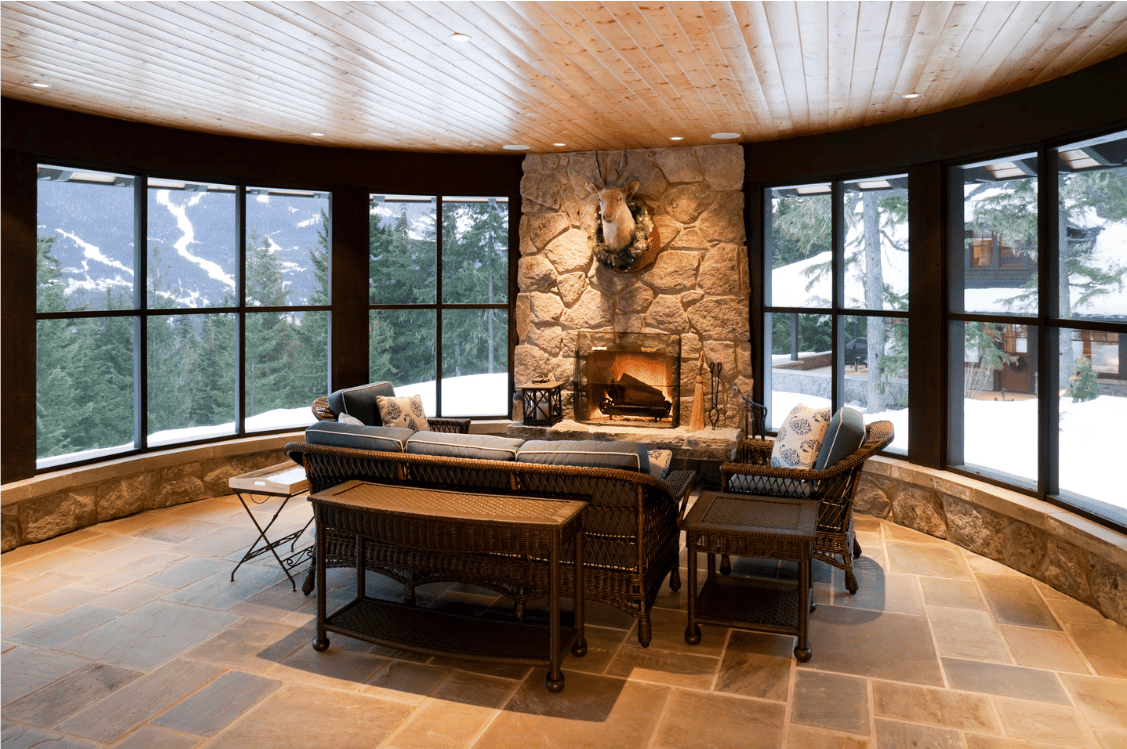 Selling a house fast can be a complex and challenging process, especially if you're not familiar with the real estate market or the legal and financial aspects of the transaction.
Working with a reputable real estate agent who has experience in selling properties quickly and efficiently can make the process smoother and less stressful. A good agent can provide you with valuable insights into the local market, help you price your property correctly, market your home effectively, and handle the negotiations and paperwork on your behalf. They can also provide you with referrals to other real estate professionals, such as home inspectors, appraisers, or attorneys, who can help you navigate the selling process with confidence and ease.
Look for an agent who has experience selling houses in your area with a proven track record of success.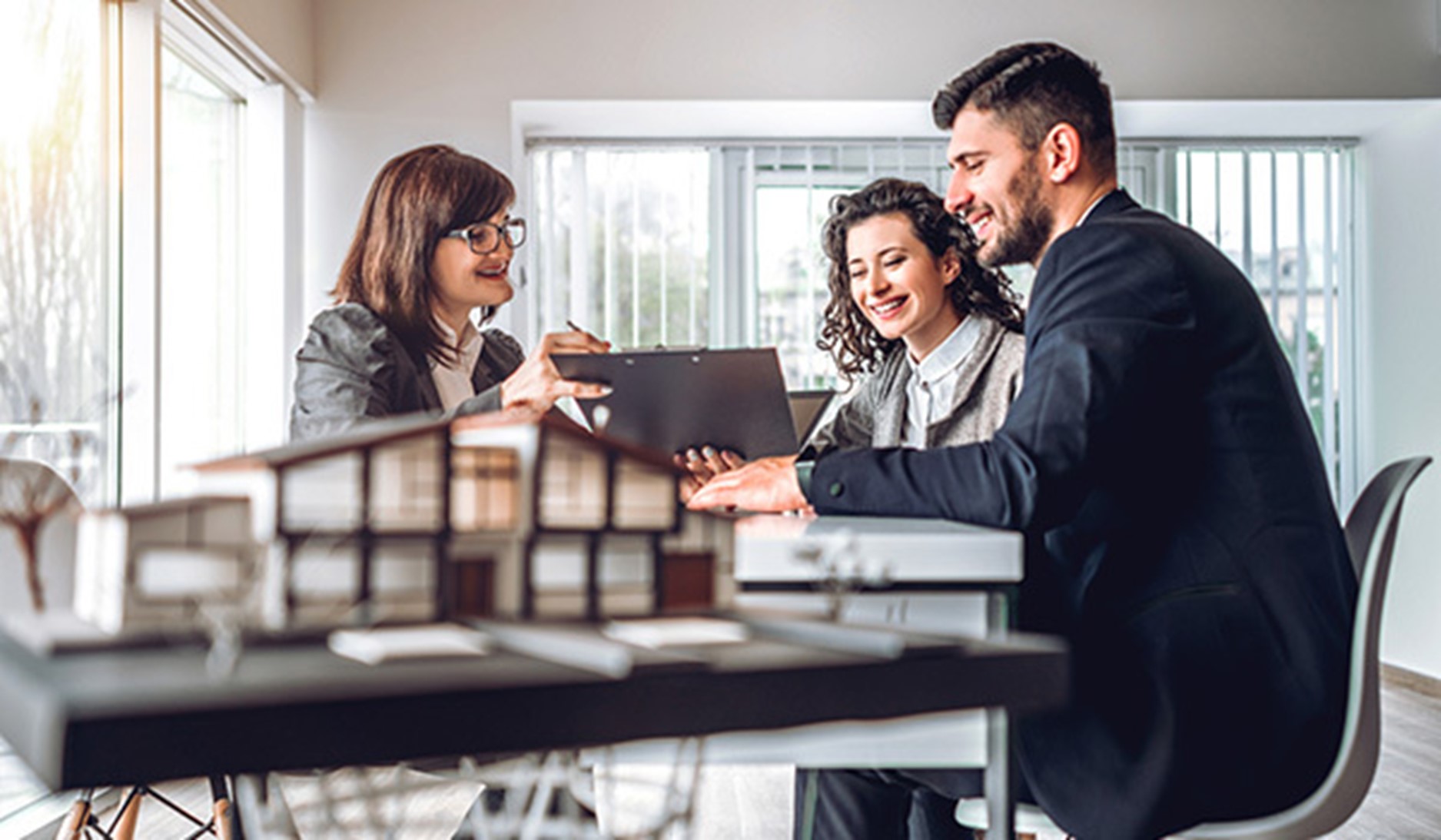 Marketing your house is essential to attracting buyers. Your real estate agent can help you create a marketing plan that includes online listings, open houses, and other promotional activities. Work with a real estate agent who has experience creating effective real estate marketing campaigns and promoting properties on social media, online marketplaces, and real estate websites.
Real Estate Photography, Virtual Tours and Open Homes
Professional photography, virtual tours, Open Home and high-quality descriptions are all part of effective real estate branding. It is essential to showcase your house's best features.
Use High-Quality Photos and Videos
High-quality photos are essential in today's digital age, where most buyers start their search online. Make sure your real estate agent takes professional photos of your house, including the exterior, interior, and any unique features, such as a pool or fireplace. Be sure to take shots of all the rooms and any updates you made, like hardwood flooring or renovated kitchen cabinetry, as these will add additional value for prospective buyers. Professional Real Estate Photography and Videography will help capture the best angles and lighting and make your house stand out.
According to reports by Professional Staging, NAR, Investopedia, and Bankrate, Among buyers' agents, having photos (83%), videos (74%), and virtual tours (73%) available for their listings was more important since the beginning of the COVID-19 pandemic.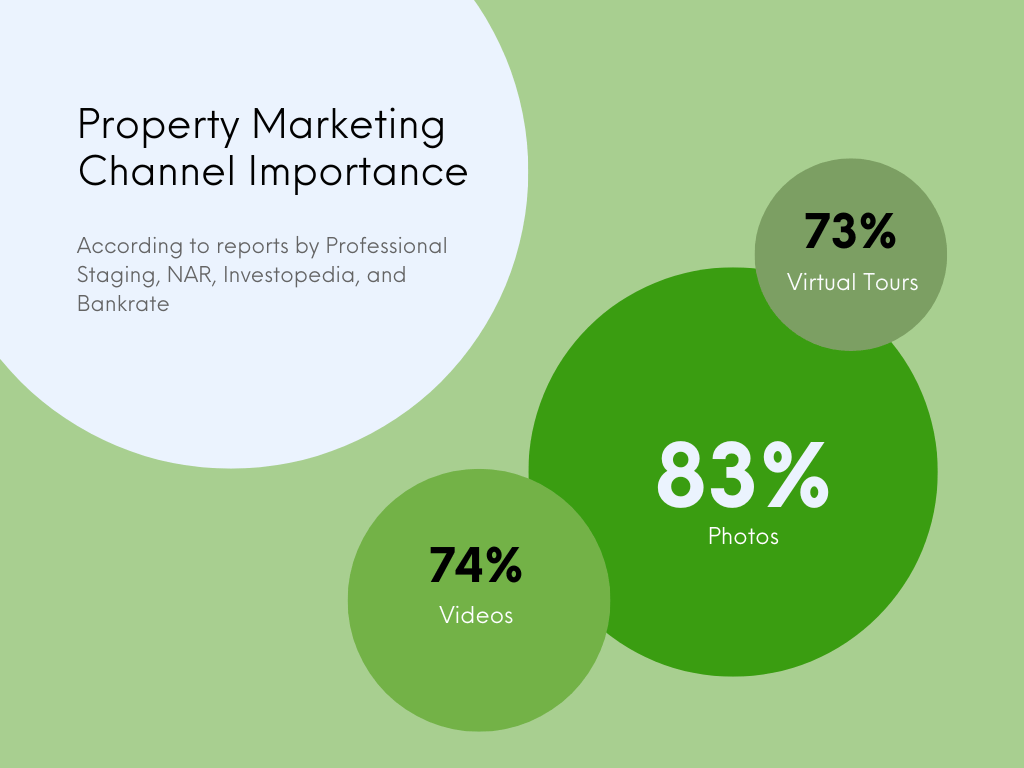 Leverage Social Media
Social media can be a powerful tool for reaching potential buyers. Share your listing on your personal accounts, in addition to your real estate agents posting it on their professional accounts You can also consider using paid social media advertising to target specific audiences.
Host an Open House or a Private Showing:
Hosting an open house or a private showing can be a great way to attract multiple potential buyers at once, and create a sense of urgency around your listing. Make sure to promote your open house on social media and through other marketing channels to maximize attendance.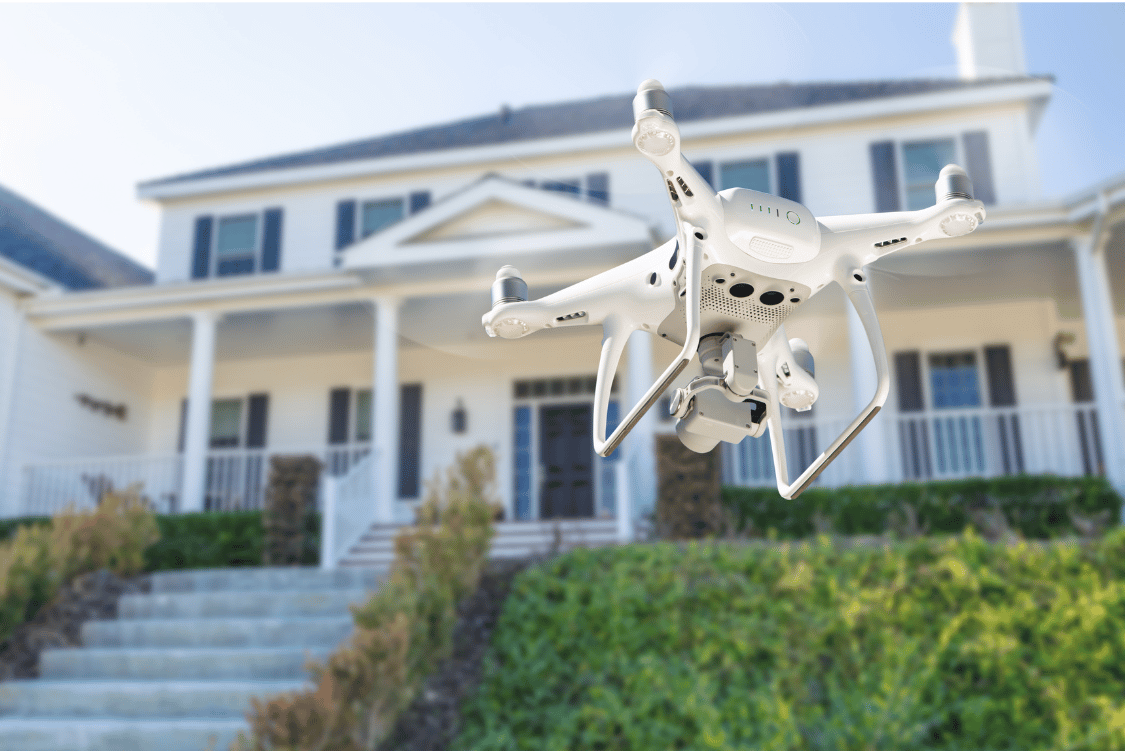 Step Eight: Set a Realistic Price
Pricing your house correctly is crucial to attracting buyers and getting top dollar for your investment. Work with your real estate agent who has experience selling houses in your area and knows the market. They can help you determine the right price for your house based on its location, features, and condition.
Price your home competitively: Pricing your home correctly can make all the difference in attracting the right buyers. Work with a knowledgeable real estate agent to determine the right price for your home based on local market trends and comparable properties. You are now ready to put up your property for sale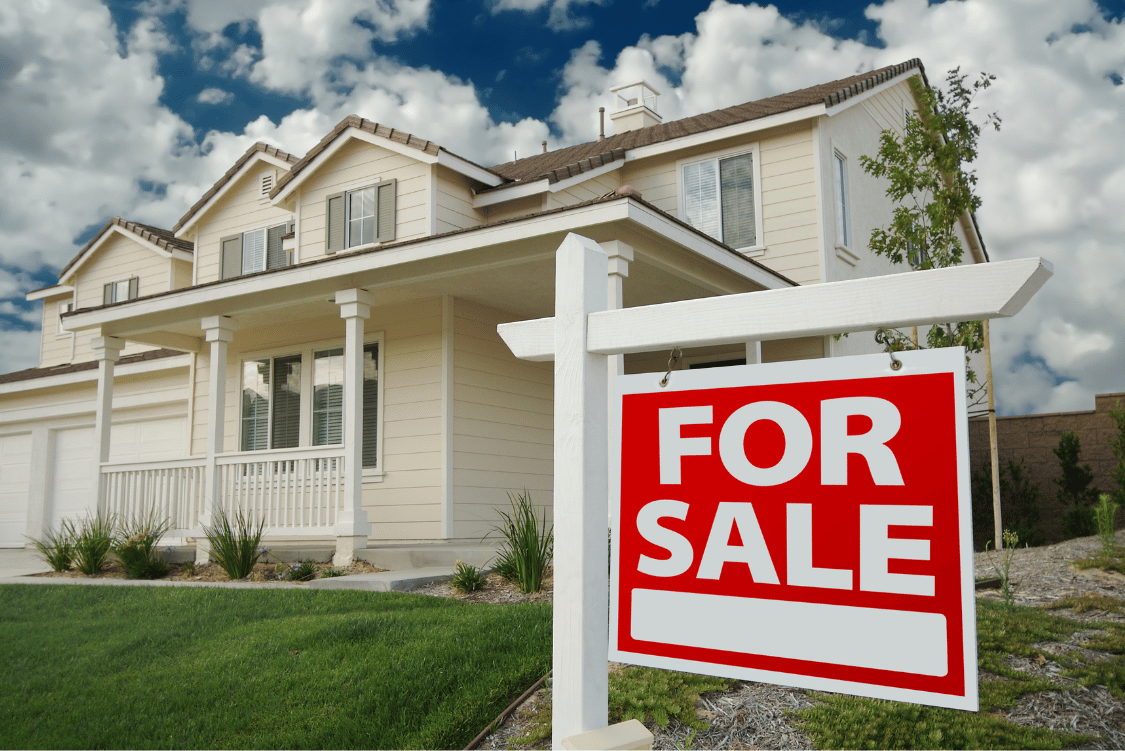 Step Nine: Be Flexible and Responsive
Selling a house fast requires a high level of flexibility and responsiveness on your part. You should be willing to accommodate potential buyers' schedules and preferences, respond to their inquiries and offers promptly, and negotiate in good faith to reach a mutually beneficial agreement by working with your real estate agent.
Some ways to be flexible and responsive include:
Being available for showings and inspections at different times of the day and week
Responding to phone calls, emails, and messages in a timely and professional manner
Considering different types of offers, such as contingent offers, cash offers, and lease-to-own offers, depending on your needs and circumstances
Working with your real estate agent by Being open to negotiating on price, repairs, or other terms of the sale even if it's a low-ball offer.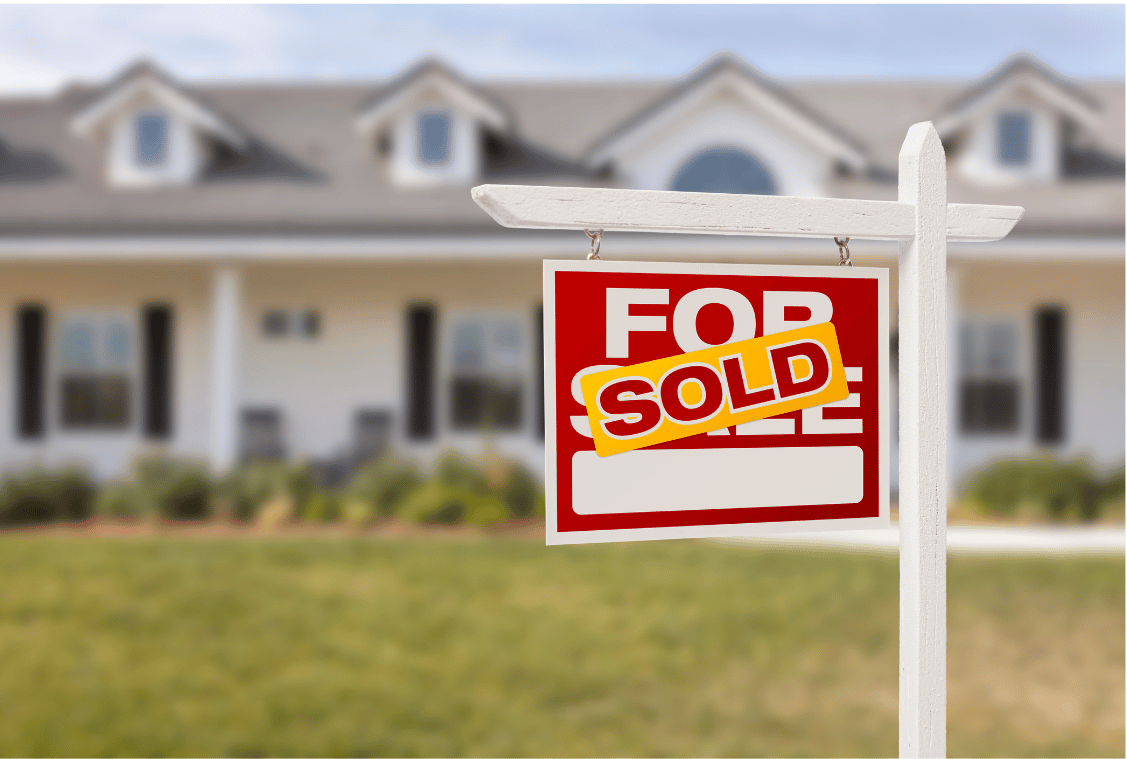 Conclusion
Selling your house fast in Sacramento in todays Real Estate market requires a combination of pricing strategy, curb appeal, staging, marketing, flexibility, and expertise. By following these tips and strategies, you can increase your chances of selling your property quickly and at a fair price, while minimizing stress and hassle in Sacramento's competitive real estate market.
That's why it's essential to have the support and expertise of a professional real estate agent by your side. With their knowledge of the market and their ability to connect with potential buyers, they can help you navigate the ups and downs of selling your Sacramento home with confidence and ease. You will save yourself from making rookie mistakes.
So, if you're feeling overwhelmed or unsure about the selling process, don't hesitate to reach out to our knowledgeable and experienced team of Sacramento Real Estate Agents at Best Sac Homes Group and Big Block Realty North. We can guide you through every step of the process and help you achieve the best possible outcome for your home sale. So, what are you waiting for?
Sources:
Sacramento Association of Realtors: https://sacrealtor.org/

Zillow: https://www.zillow.com/sacramento-ca/home-values/

Trulia: https://www.trulia.com/CA/Sacramento/

Realtor.com: https://www.realtor.com/realestateandhomes-search/Sacramento_CA/

U.S. Census Bureau: https://www.census.gov/quickfacts/fact/table/sacramentocitycalifornia/PST045219